Joyce the premier manufacturer of Screw Jacks, Actuators, and Lifting Equipment in North America, has remained in continuous operation since it was established in 1873. Joyce long history of designing and manufacturing high quality products is unparalleled in the industry.
JOYCE Solar Tracking Actuators (SA)
Joyce Solar Actuators are designed to precisely position smaller solar tracking equipment. Their robust and efficient DC motor (24V or 36V) keeps power consumption to a minimum. Travel speeds remain nearly constant regardless of the load. Ideal for rugged environments common to the solar industry, these cost-effective solar actuators have an IP65 protection rating. Self-locking features in the mechanism ensure that the solar actuators can be held in position throughout the daily tracking cycle. Each solar actuator is lubricated for life and includes an adjustable clevis that allows the unit to be appropriately positioned for the particular application.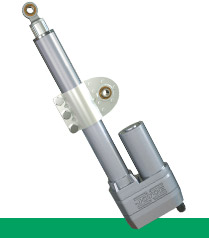 Specifications
Double clevis mounting for easy installation
Clutch for overload protection
Adjustable limit switches for flexible travel settings
Reed sensor digital feedback for accurate positioning
Duty cycle is 25% (4 min. running, 12 min. rest)
IP65 rating provides protection against outdoor conditions
Lubricated for life to reduce maintenance costs
Options
Available in 24V and 36V
Three stroke lengths – 450 mm (18 in), 600 mm (24 in), 900 mm (36 in)
Trunnion or end clevis mounts available
Joyce Solar Jacks are specifically designed for heavy-duty solar tracking applications. Available in machine screw and ball screw models, these cost-effective and efficient jacks precisely position loads at speeds typical of solar tracking operations.
Configurations are available to meet individual customer tracking and positioning requirements. These jacks are designed for outdoor applications and built to stand up to environmental challenges found at solar installations around the world.
These self-locking, solar tracking jacks are designed to precisely position loads at speeds up to 3.75 inches per minute. A brake motor is required to hold position.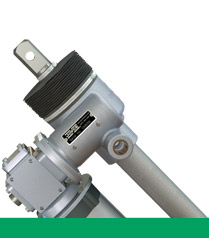 Specifications
Cast aluminum housing provides superior corrosion resistance
Up to 48 inches of travel, can be customized to your requirements
Integral trunnion provides for simplified mounting and installation
Optimized drive efficiency for lower power consumption
Low maintenance for reduced operating costs
Stainless steel clevis provides corrosion-resistant end condition
Bellows boot provides protection for the screw
Options
AC or DC motor
Position sensor
Limit switch
Customized jack solutions