2 axis spray painting machine
2 axis spray painting machine
2 axis spray painting machine is able to spray by "Z" shape via two moving guides. In this way, the machine be able to paint big size product efficiently and accurately. It can be setup as dedicated unit or together with coating line for full automatic operation. Our machine is setup for general use of available coatings such as PU, UV and PE etc. For some specific coatings, you just need to replace the spray gun and it will work properly. The machine is setup for full automatic spraying. You just need to control the system by touch screen.  If you have fixed sizes products, we can set all programs in our factory so you don't have to programming by yourself. We offer full coating line solutions other than this painting machine. Equipments we can offer include: spray booth, automatic conveyor, dry oven, clean room system, fresh air supply and waste gas treatment system. Before delivery to client workshop, we'll notify customer to bring product samples to our factory and do testing. We will ensure zero problem from client side.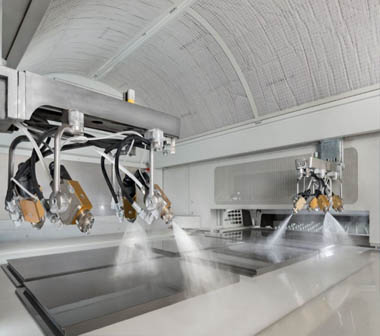 Key advantages:
1.More environmentally friendly –Compared with traditional manual spraying save 25%~50% paint use
2.Higher work efficiency — more products can be sprayed in the same time
3. High-quality spray effect –Coating & painting effect are more better than hand spray painting
4.Full automatic machine — 10s to set up the coating of a plane. Say goodbye to complex control!
5.Human Health friendly — Spraying booth without additional dust and paint emissions protect the health of our employees
6.Accurate spray painting, long normal running time, low paint consumption, 24 hours of uninterrupted work, and high reliability.
7.The spraying speed is fast and the spraying is uniform. The spray gun level and the front and rear angle positions can be adjusted according to the changes of the workpiece. The spraying size control is flexible.
8.Explosion-proof, environmental protection, high safety performance, simple operation and easy to learn.
9.Long life and easy maintenance .