Antenna Control Servo System
Antenna Control Servo System
At IMTPL, we conceptualize, integrate and deliver hi-tech limited and full motion servo systems for remote sensing, telemetry, data link and TTC communication requirements.
We have provided numerous servo systems for Antennas of – 4.6m to 11m dish
From 2Ghz (S-band) till 40Ghz (Ka band)
Customizable to suit LEO, MEO and GEO satellite tracking
Seamless integration for auto tracking based on different feeds
Hi-performance servo control using Adaptive control algorithm
Customizable UI along with Advanced monitoring and control software
Scope
Operating Software
Servo Motors & Drives, Motion Controls
Electrical Panel
Proving, Installation and Commissioning
Documentation
Test and Evaluation (T & E)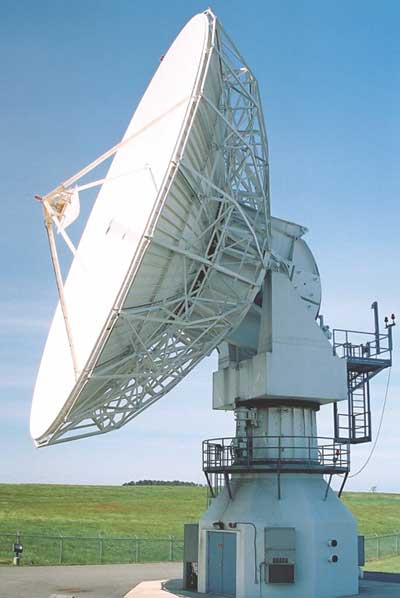 Application :
ACSS is a high performance Servo System for tracking of Low Earth Orbit Satellites, Geo Synchronous Earth Orbit Satellites, Sun & Stars. ACSS is developed for precise motion control of the parabolic reflector type antennas using the state-of-the-art technology for modern digital control systems. Precise motion control is achieved by backlash removal in large gearboxes used with azimuth & elevation axis of antenna through usage of Dual Drive Counter Torque technique.
Implementation of cascade control for closing the loop using signal being received from satellite with the help of high performance servo-motion controls & high resolution absolute encoders.
ACSS has different operating modes like Standby, Manual, Slew, Designate, Program Track, Step Track, Monopulse Auto Track, Auto Sequence, Computer Designate Mode, Slave & Stow.
We have several installation of ACSS to Space Programs of Satellite Research Organization of India & overseas.
Overview
For tracking Stable or inclined GEO / MEO / LEO satellites, Launch Vehicles, Sun and Stars
S, C, Ku or multiband operation
Pointing, Step Track, Orbit Predictive Track, Monopulse systems
Fixed or transportable earth stations
Accommodates AZ / EL mounts with optional Polarizer
Dual servo motor operation for each axis with counter torque for removal of backlash effect
Optional timing interfaces – Network Time Protocol or mod code IRIG-B / EIA with count up / count down options
Operations in local and remote modes
Trajectory generation from NORAD two line elements
Trajectory generation from orbital elements
Data logging and plotting
Usage of Precision Motion Controller
High Performance Servo Drives
High Resolution Absolute Encoders
Operating Modes:
Standby-Brakes are applied and drives are disabled
Manual– Axes movements are geared electronically with handwheels
Slew-Slewing movements at variable speeds
Designate– Axes move to destination angles at required velocities
Program Track– Axes move as per the predicted trajectory and timeline
Step Track– Axes move in successive small steps to maximize AGC
Monopulse Auto Track– Axes are moved so as to make the tracking errors zero
Auto Sequence– Automatic changeover from Program track to Monopulse auto track
Computer Designate Mode– Axes are moved to follow the angle data continuously being received over the data link
Slave– Axes are moved to follow the movement of co-located antenna
Stow– Movement of the stow pins is made in this mode